Each Fondfolio is made to order by hand. This is my favorite part of the process and I wouldn't have it any other way — it allows me to create a one-of-a-kind keepsake that will last a lifetime.
Each book takes about 5 hours to make, from start to finish. More details on each of the steps below.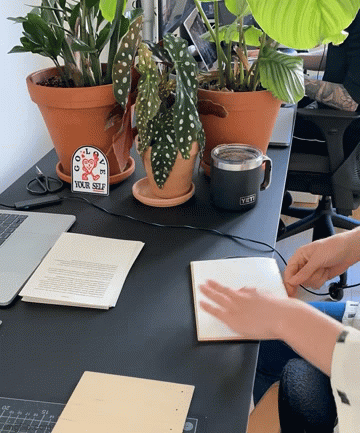 A snapshot of me binding, watching The Great Pottery Throwdown on my laptop.
1. Proofing
Once I receive your order I'll export the contributions and bring them into my publishing app where I obsess over the paragraph rag. I also do a spell and grammar check as well as a read-through for logic. The recipient's name is printed on the first page. The production date is printed on the last page, as well as a QR code links to the digital version. I then export the pages as a PDF proof and email you so that you can request any final edits before I start printing.
2. Printing
The pages are printed on creamy 100% recycled speckletone paper. I love that the little flecks and shivs make each spread completely unique.
3. Cover creation
The front cover is engraved with a unique pattern — lately I've been drawing a lot of mandalas. I also engrave a relevant quote on the inside of the back cover (something from one of my favorite artists, poets, scientists or philosophers). Warm and naturally patterned with the grain of the wood, no two covers are ever alike, and they're all beautiful.
4. Page prepping
I fold each spread by hand using a bone fold and assemble the signatures. At this point I do another proof — flipping through the pages to make sure I haven't missed anything.
I then trim and punch holes in the signatures and place them under a heavy weight for 24 hrs to help flatten out the spine.
5. Binding
Binding is probably my favorite part, I find it really meditative. I use super tough Irish waxed-linen thread to bring everything together using a coptic binding technique. This allows the book to lay flat and accommodate as many contributions as you can collect. Some of the oldest known books are bound this way — no glue just consistent tension.
5. Wrapping
Each of the Fondfolios are giftwrapped in a locally-sourced vintage scarf, using a Japanese technique called "Furoshiki". Reuse the wrap for another gift, or wear it!
7. Packing
I use compostable tissue paper, acid-free cardboard mailer boxes, paper labels and paper document envelopes so that each of the boxes is fully recyclable. Read more about our sustainable packaging efforts.