For the most part, our customers create a Fondfolio for someone else — often their spouse, a close friend, family member, or co-worker. That's why Lina caught our attention, she was making one for herself! Little did we know that Lina's birthday book would become one of our favourites — challenging in the best ways and helpful for improving both our product and our design process.
Lina had been carefully planning her 40th birthday for almost a year. She'd booked a small gallery space within walking distance from her favourite bar in Fitzroy, Melbourne and had invited all her friends and family, making sure to pick a date that worked well for those travelling from out of town. A few months later WHO declared COVID a global pandemic and her birthday plans, like everyone else's, fell apart.
A month before her birthday Lina noticed a classified ad we'd placed in our favourite newsletter, Dense Discovery and decided to invite everyone she'd hoped to celebrate with to contribute their words to a birthday book. She also reached out to us to commission a custom cover design and slip case. Her email was sweet and funny, we were immediately charmed.
"Hi, found your wonderful business via Dense Discovery newsletter and immediately decided that if I couldn't have the 40th birthday party I had imagined, then by golly gosh I'd get the book I really wanted. Love Fondfolio. Great idea. Beautifully designed everything. I even love the writing prompts and guidance you provide. (chef's kiss)..."
This delightful vibe continued throughout the process. Lina's feedback was thoughtful, she asked good questions and was flexible. She understood that these customizations (and other pandemic-delays) meant that the book wouldn't be there for her birthday. Despite her generosity of spirit, we still had anxiety about designing the cover and slip case because at that point we hadn't had many custom orders.
Also Lina had collected 124 contributions meaning this would be our biggest book so far — a real life test of our "infinite contributions" claim. All this, plus the fact that Lina was a fellow creative with a clear sense of what she liked — we were feeling some extra pressure to get things "right". We were so grateful for the opportunity to move through these challenges with someone as kind as Lina. Funnily enough one of the contributors was Kai Brach, the creator of Dense Discovery — good people know good people!
After we'd sent Lina the proof to review, we started on the cover design. Inspiration for these can from a couple of different sources. Either our customers provide specific themes, references, or keywords, or we borrow ideas from the contribution content itself — the words other people have written about their friend. Lina opted for the latter which gave us lots of great content to work with — not only had she gathered the most, but also some of the most thoughtfully written contributions. We'd made notes on common themes during the proofing phase and kept those ideas in view as we started sketching the design. When we were happy with it, we shared the final version with Lina, along with a short explanation, and nervously awaited her feedback.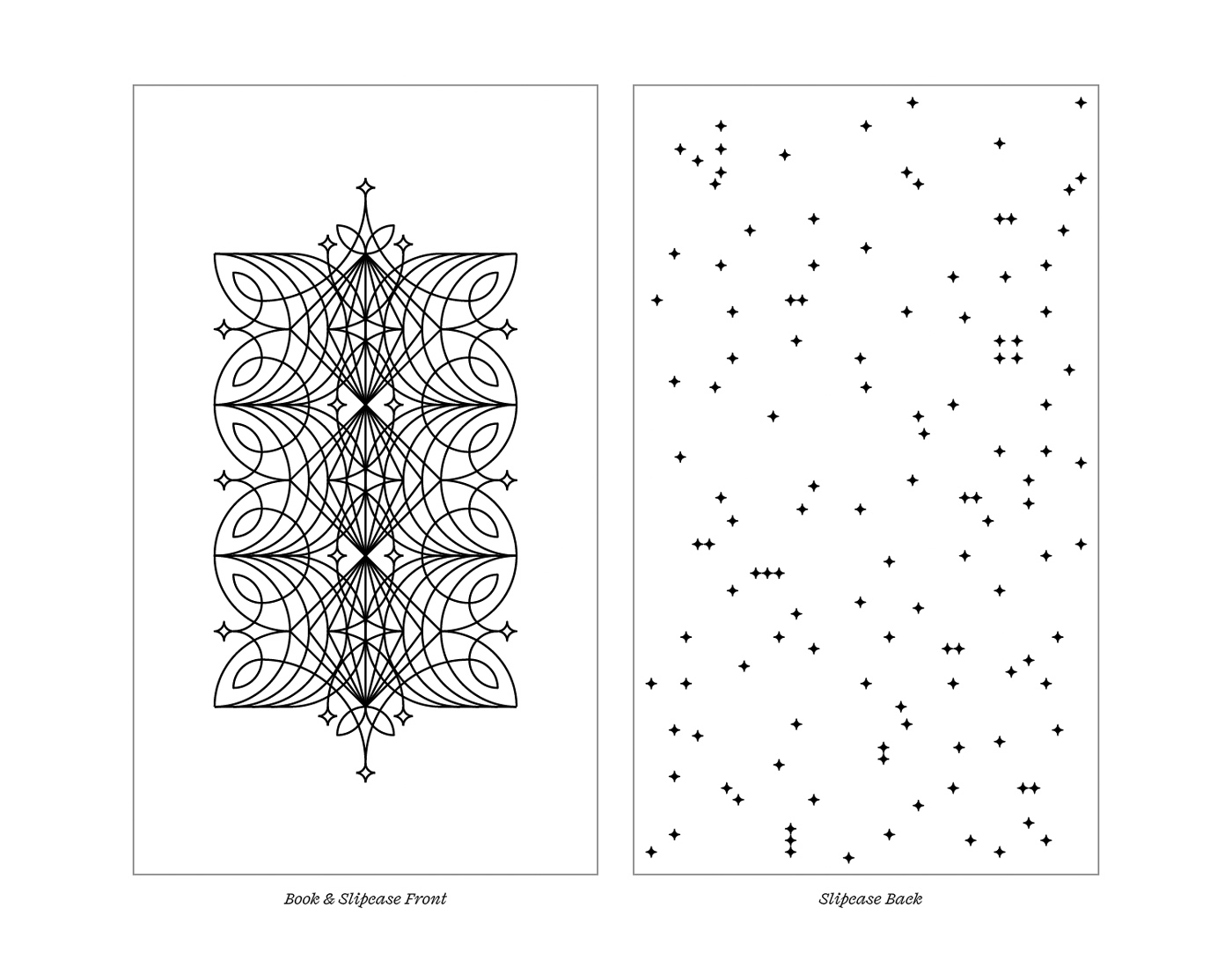 This is the design that we sent to Lina and below is our explanation
"…By all accounts you are a connector, a joyful bringer together of like-hearted humans, so the design is network-like with everything elegantly entangled (speaking also to your meticulousness and creativity). People love your warmth and energy, you bring them joy — so there are no sharp edges, only smooth round lines and sparks..."
Lina loved it right away, including our idea to take one element from the cover design (in this case the "spark") and use 124 of them to create a design for the back of the slip case (one spark for each contributor). So we set to work making the book, then took measurements to make the case. We'd lost access to our regular maker space due to COVID so it took us twice as long to produce everything. Lina was patient and sweet throughout and we were really happy with the final product. We sent her a sneak peek and looked forward to hearing her thoughts once she'd received it in person.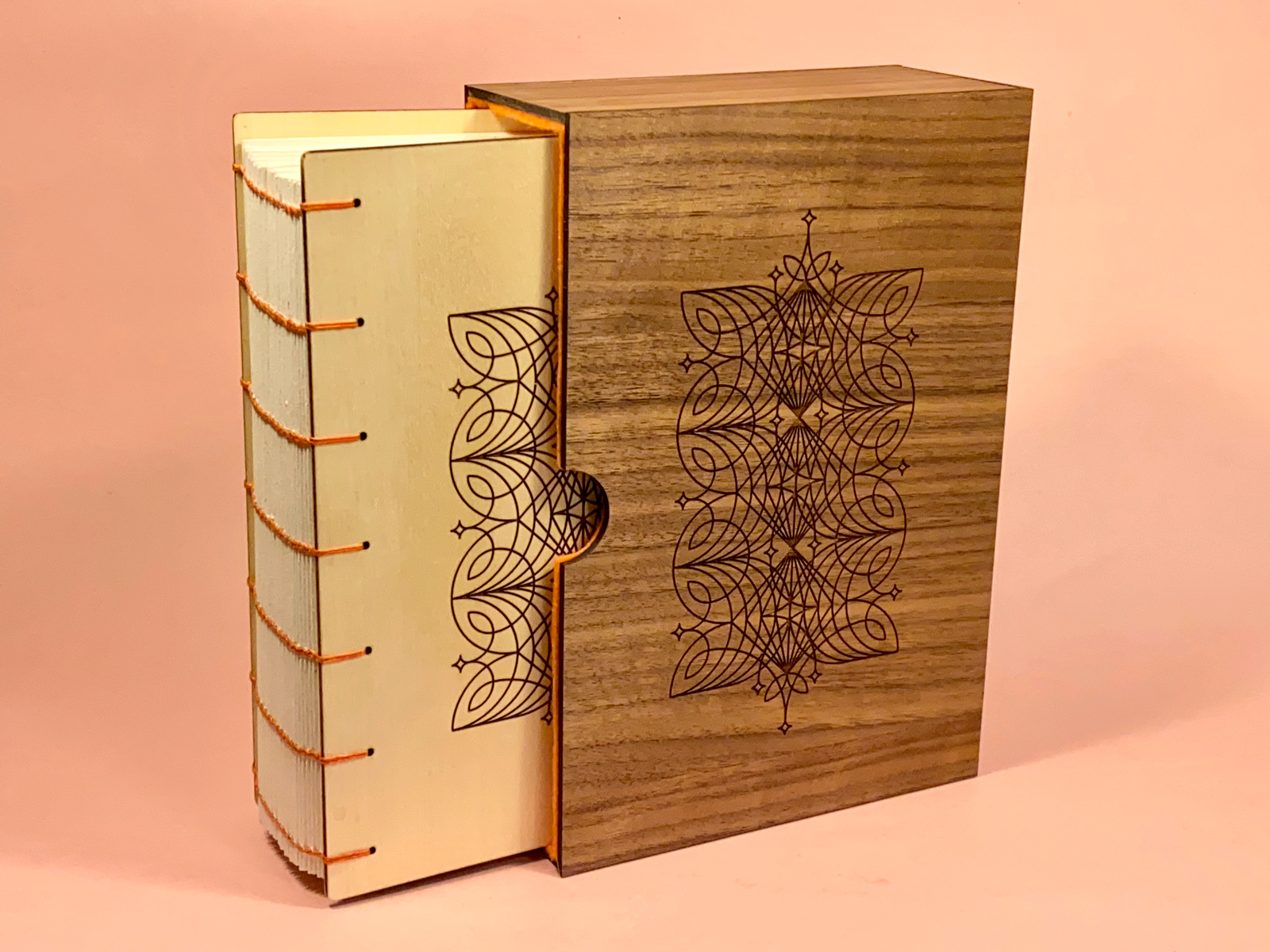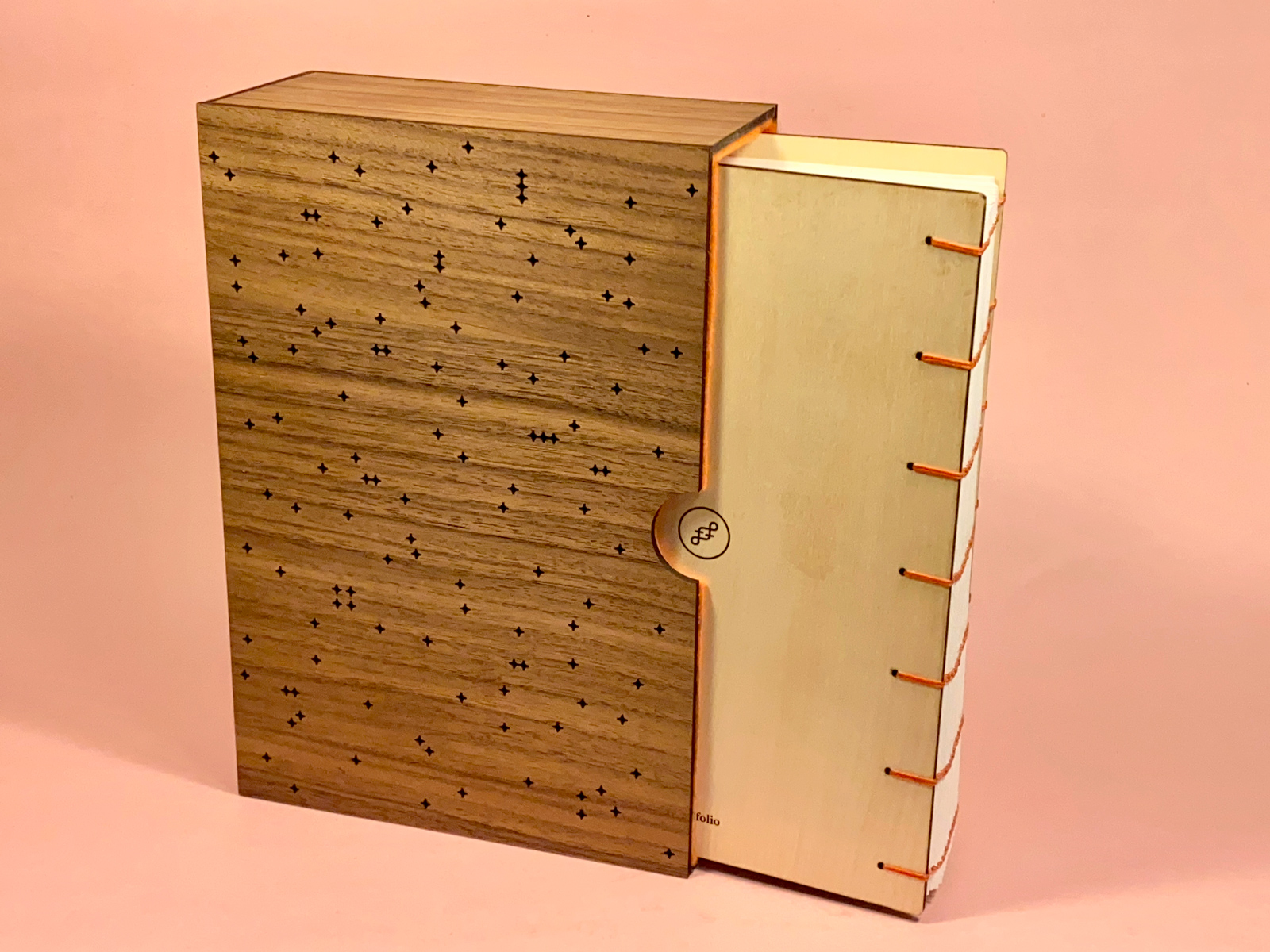 Lina's finished book and slipcase
A week later Lina confirmed she'd collected the package with a quick video of her opening her mail box. She followed up a few weeks after that with some of the loveliest feedback we've ever received. This included a beautifully shot unboxing video that she'd captured to share the experience remotely with all her friends and family who contributed.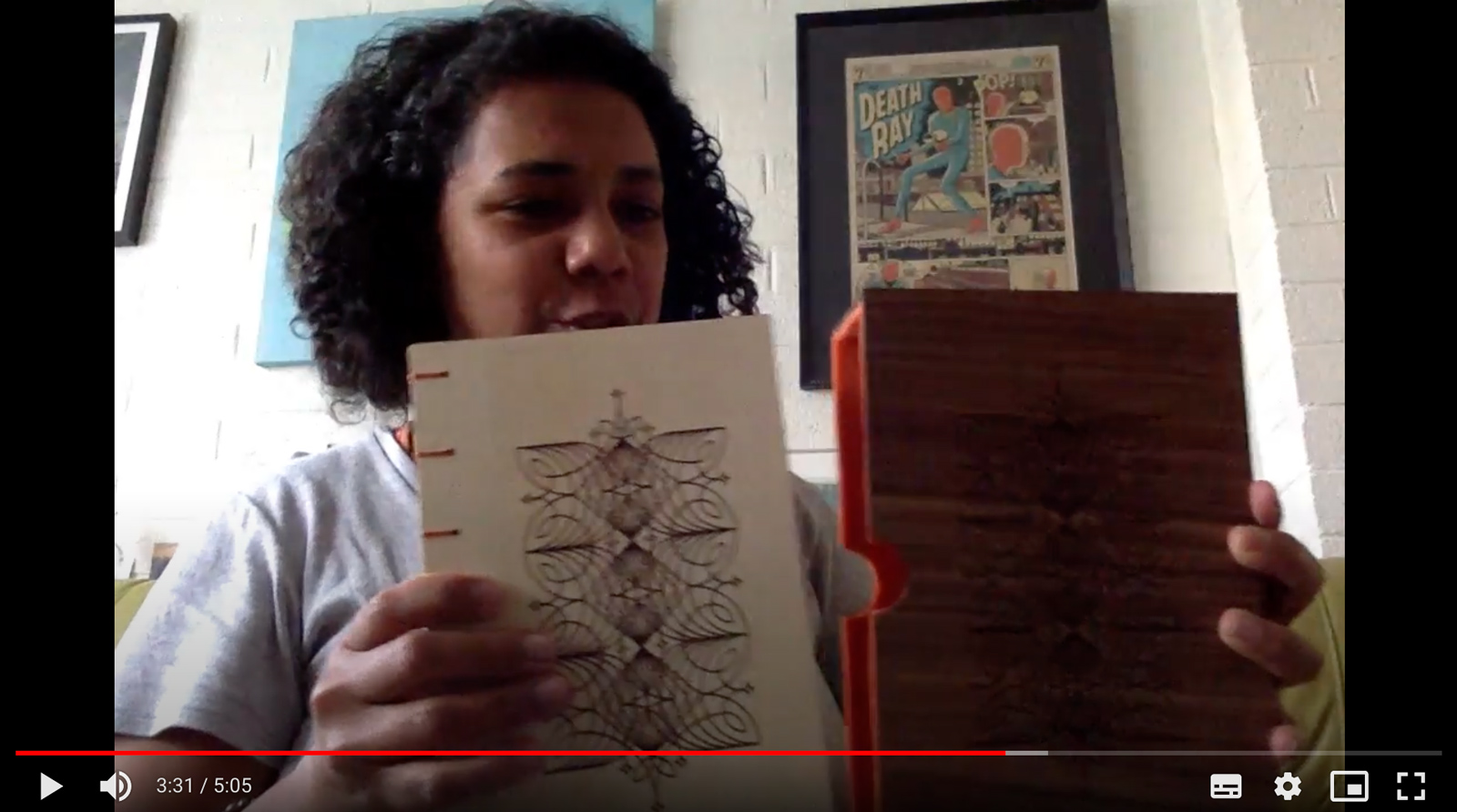 A screenshot from Lina's unboxing video (the full video is only for those who contributed)
"...I spent a few weeks sending thank you emails to everyone. At the time I thought it was the equivalent of "sending people home with a slice of cake and a party bag of goodies" and didn't anticipate the huge response that came back! Yet another thing I'm learning about "hosting gatherings in isolation".
I'm now in the midst of responding to the second wave of good vibes. This project really is a gift that keeps on giving..."
Absorbing all this made our hearts swell. My eyes brimmed with happy tears as I watched the video. Lina was experiencing all the good feelings we'd hoped this gift could bring, and more! Not only that, but she was generously sending some of that warmth back to us.
Just as thoughtful were Lina's comments for things we could improve. Our original design for the slipcase was slightly fragile and had come unglued in a couple of spots. Fortunately her partner is an expert gluer and could fix it, but we immediately revised the slip case design to include a finger-joint construction so the structure could better support itself.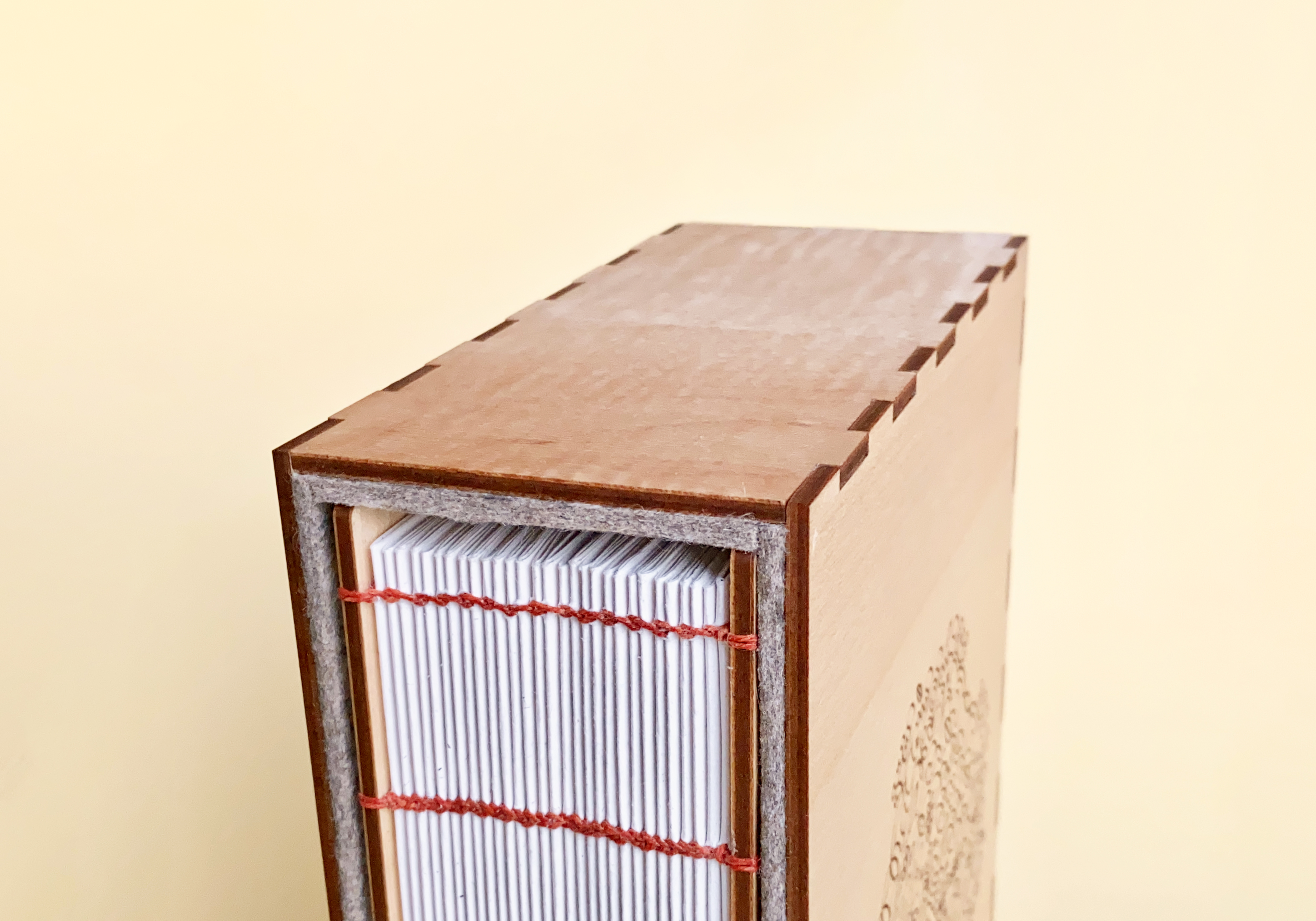 Our revised slip case design with finger-joint construction.
Lina's feedback also resulted in a couple of layout design changes including the creation of a condensed version which we now use for books with more than 50 contributors. This allows us to maintain the same pricing for larger books.
We're so grateful for customers like Lina who see the value in what we're doing and help us make it better with thoughtful feedback — thanks Lina!
---
Lina is a first generation migrant, born in Kenya and raised on the lands of the Dharawal and Eora Nations. She is a Facilitator and Collaboration Designer living on Wurundjeri Woiwurrung Country and working globally. Her mission is to alleviate needless workplace suffering and bring more kindness into the world, one team at a time. For more information on how you can work with Lina visit her website.